Anderson Valley in The News
Robert Parker Wine Advocate
Mendocino County's Bountiful Anderson Valley
By Melissa Vogt, December 2016
... Anderson Valley is a narrow, 20-mile river valley that runs east to west between coastal mountain ranges. It stretches from the bottom at Boonville up through Philo and then to the top at Navarro. This appellation is the heart of Mendocino County wine country, and the most well-known, with the largest concentration of grapes planted than in any of the other ten nested appellations that lie within the larger Mendocino County Appellation...
Seattle Times
California's Anderson Valley features breathtaking natural beauty and spectacular wines
By Andy Perdue, October 28, 2016
The Anderson Valley in California's Mendocino County is a small, cool-climate region near the Pacific Ocean. It is becoming highly respected for its pinot noir, chardonnay and sparkling wine... 
Located just north of Sonoma County in Mendocino County, Anderson Valley combines incredible wines with breath-capturing natural beauty.
Just off Highway 101 at Highway 128, a drive into the Anderson Valley feels a little like you're heading into Sleepy Hollow. But once you reach the town of Boonville, you're in this beautiful valley that stretches all the way to the Pacific Ocean, some 20 miles to the west.
The Wine Odyssey
America's Burgundy Appellation: Anderson Valley
By John Foy, July 5, 2016
The two-lane road provides 28 miles of hillside corkscrew turns, roller-coaster mountain climbs and descents into valleys and canyons, passing farms, sky- scraping trees and wilderness. No town; only a store or two. Then, you turn left and see the sign: "Boonville population 1,035."...
California Wine Fan
Anderson Valley Pinot Noir Festival
By Tony Lima, October 2, 2016
We highly recommend this event. It's not just a Saturday afternoon grand tasting (although that was pretty nice despite the rain). This is a long weekend event with wineries offering special tastings and food on Sunday. We planned carefully and recommend that you do likewise. Reserve the Saturday event for wineries that don't have tasting rooms or that are located outside the Anderson Valley. (The requirement for inclusion is a wine made from Anderson Valley grapes, not a physical presence in the region.) Spend Sunday exploring the local wineries. We promise this will be a delightful experience.
See more at: http://californiawinefan.com/2016/10/anderson-valley-pinot-noir-festival/#sthash.xaDIsoh6.dpuf
Santa Rosa Press Democrat
The next hot pinot noir region? Vintners turn their sights on Anderson Valley
By Bill Swindell, Sept 11, 2016
... Just over the past year, top vintners have begun turning their attention to what could be the next prime pinot region — Mendocino County's Anderson Valley.
The grape, with a thin skin and tight clusters, is a difficult variety to grow, and it needs a cool climate to thrive. But there are not many of those exclusive regions in the world with available land for the fruit, which makes wine noted for its lower tannins and higher acidity.
Forbes
California's Best Undiscovered Pinot Noirs -- Anderson Valley
By Nick Passmore, Sept 8, 2016
There are only two kinds of Pinot Noir fans: those who've never heard of Anderson Valley Pinot, and those who love Anderson Valley Pinot...
This region of wonderful Pinot Noirs two hours north of San Francisco – you just head through Sonoma and keep going – is very, very far, in style and style from the manicured, spa-studded luxury of Napa. These are dirt-under-the-fingernails farmers, and though I didn't actually spy a John Deere cap, I felt sure I'd encounter one climbing off a tractor any minute...
Traveling nine to fiver
A Weekend in Anderson Valley Wine Country
By Megan MacNee, July 23, 2016
...The Anderson Valley Wine Country is a two and a half hour drive up from San Francisco, making it a bit of an out of the way destination but at the same time giving it a laid-back feel away from the tourists that flock areas closer to the city. Often a stop on the way to or from the Mendocino Coast, Anderson Valley is a destination in itself where you'll lose your cell phone service, check out, and take in everything the valley has to offer...
TwoGuysfromNapa.com
Anderson Valley: Outstanding Pinot Noirs
By Two Guys from Napa, May 30, 2016
Cradled in the rolling hills of western Mendocino County, Anderson Valley is one of the smallest and coldest winegrowing regions in California.  It is also the source of excellent Pinot Noirs, crafted from grapes grown here by a talented group of wineries and winegrowers. We had the pleasure of attending the recent Anderson Valley Pinot Noir Festival and if you keep reading we'll let you know what some of our favorite Anderson Valley Pinot Noirs are right now...
Press Democrat
Berger : Pinot Noir takes center stage at Anderson Valley Festival
By Dan Berger, April 26, 2016
 ...The 19th Anderson Valley Pinot Noir Festival is a multi-tasting event that is pretty much  dedicated to extraordinary pinot noirs.
 The cool Anderson Valley, not far from the cold Pacific Coast, is fast becoming one of the state's  prestige regions for this difficult to grow grape.
 Nearly 70 wineries will pour their latest releases at Saturday's consumer tasting, from 11 a.m. to  3 p.m. at Goldeneye Winery in Philo. That will include wines from the excellent 2012 and 2013  vintages, as well as a few 2014s. A ticket is $125.
There also is a Friday technical conference that may appeal to industry insiders and anyone interested in the technical side of the game ($100, includes breakfast and lunch). Kristy Charles of the Anderson Valley Wine Growers said the day-long technical conference "won't be as geeky as it was in the past" and will include various sit-down tastings.
Pinot File
A Pair of Enduring Pinot Noir Festivals Arouse Pinotphiles
The 19th Annual Anderson Valley Pinot Noir Festival will be held May 20-22, 2016, in Anderson Valley. The event was first formalized into a festival in 1997, and has increased in popularity over the ensuing years in step with the rise in quality of Anderson Valley Pinot Noir. The event, sponsored by the Anderson Valley Winegrowers Association, is always sold out. I love this festival for its country flavor and the hospitality of the friendly hosting wineries. A few days in this bucolic valley with its picturesque vineyards, moss-covered oaks, old apple-drying barns, split-rail fences and welcome tranquility is guaranteed to invigorate your spirits.

For MORE
Forbes
5 Reasons to visit Anderson Valley now
By Kim Westerman, April 2016
Once upon a time, in the not-so-distant past, the Anderson Valley used to be a brief stop on the way to Mendocino to stretch your legs, taste some wine, and get back in the car and head for the coast. But in recent years the Anderson Valley has become a full-fledged destination in its own right, with hip B&Bs, compelling restaurants, and cutting-edge wineries. It's still a tranquil, lovely place where time slows down, but there's more now to do in that time, and reasons galore to stop and explore. While Boonville is still the hub, Philo, population 400, is where all the exciting changes are taking place...
Orange County Register
Undervalued and overlooked: Anderson Valley wines
By Paul Hodgins, April 2016
State Route 128 has to be one of the most picturesque stretches of two-lane blacktop in California, especially the part that winds from Cloverdale to the mouth of the Navarro River on the Pacific coast.
Heading northwest from Highway 101, you climb quickly on hair-raising switchbacks out of the Russian River watershed into the Yorkville Highlands. A relatively flat, straight midsection takes you through apple orchards, emerald fields dotted with grazing sheep, and scattered vineyards in the Navarro River Valley around Boonville and Philo.
Jetsetting Fashionista
Anderson Valley's Top 10 Eats & Wineries
By JSFashionista, March 2016
As I'm settling into California I am trying to cover as many Wine regions as I can. Having recently visited Anderson Valley I am thrilled to share my Top 10 Eats & Wineries you must experience if you make it up. This region is fabulous not only for their amazing cool coastal wines but their small town charm, the lovely intimate feel you experience when visiting and the quiet slower pace compared to Napa Valley for example...
Snooth.com
The Best Wine Travel Destinations in the World
By Martin Redmond, March 2016
Anderson Valley, California : Our most recent wine vacation destination was the Anderson Valley. My wife and I enjoy wine tasting in the Anderson Valley for its idyllic landscapes, unaffected, and intimate vibe. Plus, it's a target rich environment for tasting cool-climate Chardonnay, Pinot Noir... It is also home to one of California's best sparkling wine producers – Roederer Estate ( If you're looking to taste more bubbly, Scharffenberger Cellars and Lichen Estate also call the Anderson Valley home) The area also has a reputation of excellent  wine from Alsace grape varieties.

Read more: http://www.snooth.com/articles/the-best-wine-travel-destinations-in-the-world/?viewall=1#ixzz42BS4Z3WS
Vinography
2016 International Alsace Varietals Festival: February 20, Boonville
By Alder Yarrow, January 27 2016
With all the fanfare surrounding Cabernet and Pinot Noir coupled with the obsession this country seems to have with Chardonnay, it's sometimes hard for people to remember that California produces a lot of other different kinds of wine. It's even harder, it seems, to get people to drink some of it.
Enter what may be the most unique wine festival in California, from one of its most beautiful and least visited wine regions. Some of the most under-appreciated and least consumed wines in the state are those made from grapes like Gewurztraminer, Pinot Blanc, Pinot Gris, and Riesling. There aren't a lot of places in California where these grapes  thrive, but the Anderson Valley, three hours north of San Francisco, is the de-facto home for growing and making wines from these varietals in the style common to the French border region of Alsace.
The Press Democrat
Anderson Valley ideal for wine grape growing
By Bill St John, November 4, 2015
Only a few years ago, very few winemakers or wine drinkers considered Anderson Valley a producer of high-quality wine (except, of course, those few winemakers long there, such as Navarro Vineyards & Winery, Roederer Estate, Handley Cellars and several other under-the-radar wineries.)
Well, the money's been spent, and the word is out on the street that Anderson Valley is a primo place for pinot noir, chardonnay and other cool-climate grapes...
Bottlenotes - The Daily Sip
New gems to taste from Anderson Valley
October 8, 2015
For pinot noir lovers, a visit to Burgundy is something of a bucket list trip. But for a pinot adventure that's deliciously rewarding and very doable, consider the drive up to Anderson Valley in Mendocino County. Just 2.5 hours north of San Francisco, Anderson Valley has a cool climate and terrain that's perfect for growing pinot noir.
San Jose Mercury News
On Wine: Mendocino pinot noir takes the spotlight
By Laurie Daniel, September 14, 2015
The 2012 vintage was a dream for much of the California wine industry. The weather was moderate to cool during the summer, with a nice warm spell around harvest to ripen the grapes sufficiently. It was also a large vintage, with good supplies. The contrast with the difficult 2011 vintage was huge.
Mendocino County pinot noir was among the beneficiaries of the good conditions in 2012. That certainly was evident at the recent Mendocino County Fair Wine Competition, where I was on the panel that assessed the 2012 pinots. A number of gold medals were awarded. There were even three double golds, awarded when all four judges on the panel vote to give the wine a gold medal.
Two Guys from Napa
One Varietal From One Appellation: Recommendations from the Anderson Valley Pinot Noir Festival
By Two Guys from Napa, May 2015
Some Pinot Noir fans (like us) took advantage of a glorious opportunity a few weeks ago to enjoy some of the best wines made from this varietal at the Anderson Valley Pinot Noir Festival. The Festival weekend offered activities ranging from Winemaker Dinners to Winery Open Houses to a Grand Tasting in the middle of the Valley. Over 50 wineries at the Grand Tasting poured wines made from grapes grown in this beautiful appellation as food purveyors offered small bites ranging from Salads to Pizzas to BBQ Leg of Lamb...
Crushed.com
Wine Country Road Trips: Anderson Valley
By Carla McKay, May 2015
Just north of Napa and Sonoma lies Anderson Valley, a hidden gem of a wine country. Crushed.com tells us why you should consider visiting this region on your next road trip, or your next weekend ecsape (if you're Californian!).
Spring has sprung and summer is right around the corner here in California. More and more we find ourselves shortening those Friday afternoon meetings in favor of beating the traffic, hitting the road and getting some sunshine and good wine in our system! With so much to explore right in our backyard you could almost close your eyes, drop your finger on a map of California and head in any direction. If you aren't quite feeling that adventurous, our team has pulled together some of our favorite destinations so you can hit wine country like a local...
Examiner.com
One grape - one appellation: the 2015 Anderson Valley Pinot Festival
By John Compisi, May 2015
Another exceptional Anderson Valley Pinot Festival wrapped up today. And, once again, the growers, winemakers and general association members exceeded expectations. This is quite an accomplishment, considering how high those expectations have risen over the past 18 years since the festivals inception. Association President, Joe Webb (Foursight Wines), kicked it all off on Friday morning as he welcomed the sold out crowd to the day long technical conferences at the Mendocino County Fair Grounds Exhibit Hall in Boonville.
The Wall Street Journal
Wall Street Journal: uncorking the Perfect Long Weekend in California, Anderson Valley
By Matt Villano, 4/3/2015
The wineries, restaurants and unspoiled landscapes of the pocket-size Anderson Valley are just a sip away from San Francisco. This 15-mile stretch of Mendocino County between Boonville and Navarro is quiet and unassuming—a place where children abound and many tasting-room employees bring their dogs to work.In other words: wine country, in its purest form. And it's about three hours from San Francisco...."  Read more
Chicago Tribune
Cool climate, great wines: Why Anderson Valley pinot deserves your attention
By Bill St John, March 2015
..."What I think makes the place ideal for California," says Ryan Hodgins, winemaker at FEL Wines, "is the lateness of the growing season." Hodgins explains that "nine out of a dozen years in California, we get a significant heat event around Labor Day weekend." What that means for winemaking is that the wine grapes may be just sufficiently ripe to make good wine, but that any significant heat ("100 degrees isn't unusual," says Hodgins) dries out and shrivels the grapes' skins...
Mercury News
Wine: Anderson Valley's Alsace Festival
By Laurie Daniel, March 2015
Mendocino County's Anderson Valley is best known these days for pinot noir, but I've long referred to the valley as the American Alsace.
Grape varieties commonly associated with France's Alsace region -- especially gewürztraminer, riesling and pinot gris -- thrive in the cool, ocean-influenced climate of Anderson Valley, and the area has a long reputation for these grapes. So it's a natural place for an International Alsace Varietals Festival, which celebrated its 10th anniversary in February...
Wine Oh.tv
Alsace Festival: White Wine Wonderland in Anderson Valley
By Laura Ness, February 2015
...For the first time in its ten-year history, I was able to attend the Alsace Festival in Anderson Valley, and I'm planning never to miss it again.There are at least ten good reasons why. I'll get to those memorably delicious points in a minute, but first, a quick primer on what is meant by "Alsatian varieties." For this festival, the menu is all about Pinot Blanc, Pinot Gris, Gewürztraminer, Riesling and Muscat. The one thing they all have in common? Their incomparable aromatics...
Examiner.com
Anderson Valley Wine Growers defy laws of physics at 10th Alsace Festival
By John Compisi, February 2015
Neither rain nor sleet nor the laws of physics or Mother Nature could prevent the winegrowers of theAnderson Valley from delivering an exquisite 10th Annual International Alsace Festival in Boonville this past weekend. You might ask, "What laws of Nature were defied?" Consider Gravity, Inertia and the near biblical proportion rains and flooding that actually closed Highway 128 at the 'Deep End' of the valley.
Examiner.com
10th Annual International Alsace Varietal Festival celebrates aromatic whites
By Inga Aksamit, February 2015
The night before the International Alsace Varietal Festival, held February 7, 2015, the skies opened to cheers after more than 40 days and 40 nights of bone-dry weather, but threatened to overpower trees, power lines and creeks with the gusty winds and a deluge of life-giving water. But Saturday dawned clear and bright, the emerald green hills intensifying overnight against the cobalt blue sky. It was just the day to open palates to the world of the aromatic whites at the Mendocino County Fairground in Boonville.
Examiner.com
International Alsace Varietals Festival celebrates Alsace Whites
By Steve Ferree, January 2015
You will find only one wine festival dedicated to Alsace-style wines and the Anderson Valley wineries are hosting the event, the 10th Annual International Alsace Varietals Festival, on February 7. This unique and exclusive wine tasting event celebrates Alsace-style wines such as Pinot Gris, Pinot Blanc, Riesling, Gewurztraminer and Muscat.   Read More
TwoGuysfromNapa.com
A Decade of Aromatic Whites: The 2015 International Alsace Varietals Festival
By Two Guys from Napa, January 2015
The 10th annual International Alsace Varietals Festival is coming to Mendocino County next month, on February 7th and 8th offering a chance to celebrate varietals such as Pinot Gris, Pinot Blanc, Riesling, Gewürztraminer, and Muscat.  This fun and unique event is brought to you by the Anderson Valley Winegrowers Association and whether you enjoy white wines more than red, or are just a fan of the Alsace varietals, you should seriously think about attending. Read more
NPR
Lovers Of California Wine, Keep An Eye On Anderson Valley
By Christine Ciarmello, November 22, 2014
Anderson isn't a valley that typically makes the short list when travelers are planning a California wine vacation. Likely it'll be Napa, Russian River or Santa Ynez (thank you,Sideways). But something's happening in Anderson Valley — thanks to the stature of its Pinot noirs and the boomlet in the valley town of Philo...
San Francisco Chronicle
Giving thanks for Anderson Valley — a Pinot Noir sweet spot
By Jon Bonné, November 22, 2014
I'm asked with surprising frequency which wine region in California I'm fondest of. Always, I demur out of professional courtesy and a dislike of outrunning angry mobs. But in my heart, the answer hasn't shifted much for most of a decade: Anderson Valley.
Vino247
Visiting & Tasting Anderson Valley, Part I: The Story
By Trevor Felch, 29 October 2014
With twenty to thirty winding, redwood-studded miles of driving isolating the Anderson Valley from civilizations (can Mendocino be fully called that?) at both the northern and southern ends, the tour bus crowd won't be coming here any time shortly. Those large groups and the big Cabernet Sauvignon set stick to Napa's easy access and more temperate climate...
Examiner.com
A Dreamy Weekend in the Anderson Valley
By Liza Zimmerman, October 2014
I just got back from Philo and Boonville. The two charming towns are so beautiful and full of great food and wine that I wonder why we SF folks don't head up more frequently... Read More
Decanter Magazine
Decanter travel guide: Anderson Valley, California
By Stephen Brook, September 2014
An oasis from Napa's glitz and glamour, this is the wine region to visit for unpretentious dining, redwood forests and excellent Pinot Noir, says Stephen Brook...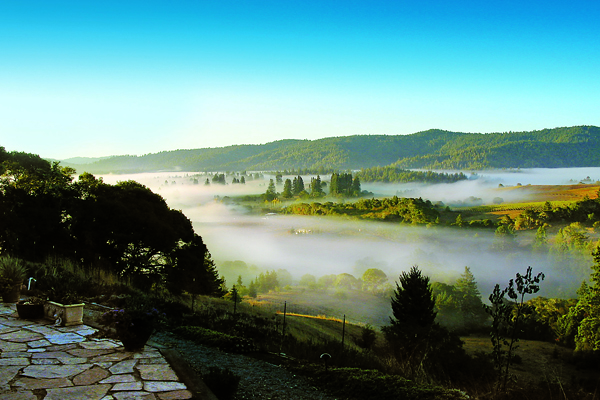 Read more 
PinotFile
17th Annual Anderson Valley Pinot Noir Festival May 15-18, 2014 Anderson Valley, California
By the Prince of Pinot, July 2014
I am always glad when the Pinot Trail leads me to the annual Anderson Valley Pinot Noir Festival. I am attracted by the convivial winegrower hosts and organizers, the informal, country fair atmosphere, the delectable local artisan foods, and the superb, world-class Anderson Valley Pinot Noirs...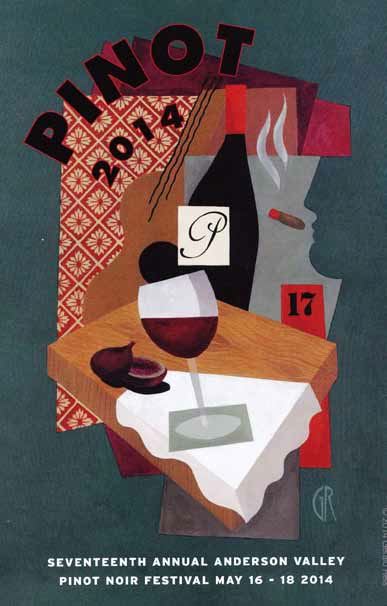 Wine Berserkers
Report on the Anderson Valley Pinot Noir Festival Grand Tasting 2014
By Ken Zinns, July 2014
... The Anderson Valley Pinot Noir Festival continues to be an excellent event, and well worth the long day-trip for me. The tasting has a relaxed, low-key character that is in keeping with Anderson Valley as a whole. And it's certainly the best opportunity anywhere to taste most of the best Pinots sourced from the area – very distinctive and different from most other California Pinots. I'm certainly looking forward to returning to the Anderson Valley Pinot Noir Festival next year. Until then, bahl hornin'!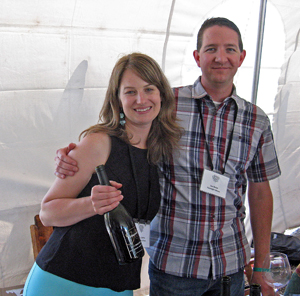 Examiner
Anderson Valley Pinot Noir Festival - Tops the list again
By John Compisi, June 2014
Somehow the amazing Anderson Valley Winegrowers produced another fabulous Pinot Noir Festival. Sure, they have beautiful environs with rolling hills, lush vineyards and rapturous grapes, but that can't account for the consistently well organized, imaginatively produced and scrupulously executed event called the Anderson Valley Pinot Noir Festival. Guess that leaves the growers, winemakers and other AVA members that meticulously plan and execute this collaborative, fun and educational event.There are many reasons why the Anderson Valley Pinot event leaps to the top of the list...
Vinesse Today
An Opportunity to Taste Wine Before It's Bottled
Robert Johnson
Tasting barrel samples can be a lot of fun, which is why individual wineries or groups of wineries host barrel tasting events — events like the Anderson Valley Barrel Tasting Weekend, which will be held for the second time July 26-27 in California's Mendocino County. According to a press release, attendees will "enjoy unprecedented access to winery cellars, taste yet-to-be-released wines, explore the area, discover new wineries, and enjoy a beautiful summer weekend in Mendocino's Pinot Noir country."...
Two Guys from Napa
Current Favorites from the Rest of Mendocino County
By Two Guys from Napa, June 2014
... Mendocino County includes winding roads, boutique wineries, hikes that truly make you feel you've gotten away from it all, coastal escapes, and farms and vineyards.  We hope the suggestions above help you plan your next trip there, but if you need additional ideas, please follow the drop-down menus on the navigation bar above under "Favorites by Wine Region" to target the area(s) you are most interested in.
Examiner
Top 12 wines from the 17th Annual Anderson Valley Pinot Noir Festival
By Inga Aksamit, June 2014
The 17h Annual Anderson Valley Pinot Noir Festival, held from May 16-18, 2014, featured an in-depth Technical Conference, Grand Tasting, Open Houses and more, all focused on that most fickle of grapes, Pinot Noir. Held in Anderson Valley, a pastoral Northern California wine growing region known for its rolling, forested hills, warm days and cooling fog that drifts in from the Mendocino coast nearly every afternoon, the 3-day festival offers a chance to relax from the pace of everyday life and consider all the facets that make Pinot so complex, versatile and seductive...
Orange Coast Magazine
Anderson Valley has "Baul Hornin'" (Good Drinking)
By Rusty Gaffney, May 2014
I recently attended the 17th Annual Anderson Valley Pinot Noir Festival and returned with renewed enthusiasm for the wines of this region. There are 11 grape-growing appellations in Mendocino County, but it's the Anderson Valley that's uniquely suited to growing that minx of a grape, pinot noir. You'll find approximately 35 wineries and nearly 100 vineyards here, and many wineries outside the valley also source grapes from the region.
Wine Consumer Magazine
Three Perfect Days at Anderson Valley Pinot Festival
By Ilona Thompson, May 2014
Against the idyllic back drop of Anderson Valley's majestic mountains, I recently attended a weekend of wine, food and learning at the 17th annual Anderson Valley Pinot Noir Festival. The secret is out. The Anderson Valley has emerged as a top player in the Pinot scene and this marvelous event is the perfect way to be introduced to this magical region...
Californiawineadvisors.com
AVA Focus: Anderson Valley
By Rebecca Lin, June 2014
An official California AVA since 1983, Anderson Valley is one of the lesser-known gems of California wine growing.  This might be partly because it's so difficult to get to.  While it's only 100 miles outside of San Francisco, the gorgeous and verdant road into town is hilly, long, and incredibly circuitous....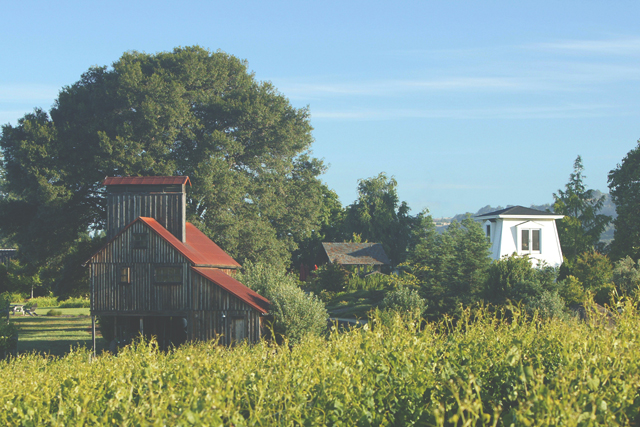 Cuvee Corner Wine Blog
The Top 10 Pinot Noir from Anderson Valley
By Ilona Thompson, May 2014
...Anderson Valley is a special place that touches the heart and soothes the soul. The Pinot Noir dramatically differ stylistically from other regions.  These wines are often haunting and unforgettable. They tell the tale of rugged beauty, emerald hills, larger than life redwoods, and winemakers that have formed an un-severable bond with the land...
SF Gate
Anderson Valley growing as destination for wine and cheese
By Maria Finn, May 2014
... Anderson Valley has quietly become a destination for Pinot Noir lovers seeking out boutique wineries. This spring, new wineries, restaurants and a farmstead cheese company are luring people north - and persuading them to pull off and stay awhile...
Aspen Daily News
The Upwardly Expanding World of Anderson Valley Pinot Noir
By Drew Stofflet
I had the good fortune of attending the 17th annual Anderson Valley Pinot Noir Festival, put on the by Anderson Valley Winegrowers Association. The festival is an effort to reach out beyond the forested, hilly confines of this secret valley and showcase their secret stash to the rest of the world...
VIA Magazine
Anderson Valley Road Trip
By Kristina Malsberger, May 2014
Fine wines, delicious eats, friendly people, great outdoors. Find all that and more in California's charmed Anderson Valley..."It's Napa 30 years ago, Sonoma 20 years ago," says Kristy Charles of Boonville's Foursight Wines. "We still have sheep roaming the hills, there's still open space, and a lot of the wineries are family run."...
Wall Street Journal
California's Coolest New Pinot Noir Appellation : The Anderson Valley has become a Pinotphile's paradise
By Jay McInerney, March 2014
... The Anderson Valley is still sparsely populated and ruggedly beautiful. It's also arguably California's coolest new Pinot Noir appellation—literally and figuratively. Fifteen years ago, the Russian River Valley was the ne plus ultra of Pinot appellations. Today, many of California's most influential Pinot makers, like Eric Sussman of Radio-Coteau and Kevin Harvey of Rhys Vineyards, have flocked to this narrow valley, some 15 miles long...
Oregon Live
Like Cool Climate Wines? Then You will Love Anderson Valley!
By Marc Hinton, March 2014
If you have not been to Anderson Valley you should make it your next wine destination. A few months ago we headed south for the International Alsace Varietals Festival, and yes if you are questioning the direction you would be correct. To get to Alsace from PDX, you would head east. This festival takes place in the critically acclaimed but often overlooked wine region of Anderson Valley, California located near the Mendocino Coast...
Examiner
Anderson Valley Winegrowers deliver another exceptional Alsace Festival
By John Compisi, February 2014
The 2014 Anderson Valley International Alsace Festival is now in the history books. To find it, all one has to do is Google "the Friendliest, Foodiest and Most Festive Wine Festival" in Northern California. That search will return wonderful Alsatian wines from the Anderson Valley, numerous other California Appellations, other American Appellations as well as Europe and New Zealand. Despite the weekend rains, this sold out event provided wonderful experiences for all participants on both Saturday and Sunday...
Read More